| | | |
| --- | --- | --- |
| | | |
| | | |
| --- | --- | --- |
| | | |
| | | |
| --- | --- | --- |
| | | |


---
Summer/Fall 2012
Parting Is Such Sweet Sorrow
After spending years touring in various rock, blues and funk bands, Craig had to part with his beloved Hammond B3 organ and Leslie. However, the organ is going to a very good home, and that makes us very happy. After all, a Hammond needs to be played!! The band, Alabama Shakes, pulled up in their touring bus and loaded it on the way to their next gig. A special thanks to Shane Haase for all of the coordination that went into making this happen.

Alabama Shakes
By the way, I like this band a lot, and I hear a great amount of soul and feeling in their sound. Very, very refreshing and extremely nice guys! Check out the below videos and you will see why they are coming on strong:
Videos
Live on Jimmy Kimmel
Live on Conan O'Brien
Live on Conan O'Brien #2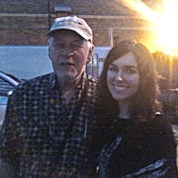 Procol Harum
What can we say... Kara grew up listening to as much classic rock from the 60's and 70's as she did Celtic and World Music. One strong influence was the British band, Procol Harum. Though mostly known for their hit, "A Whiter Shade of Pale", they had many other innovative compositions such as "A Salty Dog", "Conquistador" and plenty more. Renowned guitarist Robin Trower even went through their ranks at one point.
Kara went to their July concert in Pittsburgh and was able to catch up with the only remaining original member, lead vocalist and pianist, Gary Brooker. Though she forgot her camera, she was able to snap this photo from her cell phone, which manages to give the entire event that "retro" look. Kara can't say enough about Gary's talent, incredible voice and humble kindness. He is truly an inspiration.
Click here for more info on Procol Harum.
In the Studio
In preparation for the Dublin Irish Festival, Lone Raven buddies, The Kells, are back in the studio working on their newest CD release. Also on deck are Trish Featherstone and Larry Schicks, The Ladies of Longford and Clear Blue Sunday.

---
Summer/Fall 2011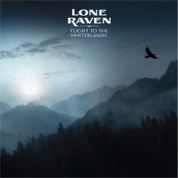 New Lone Raven CD
The new Lone Raven CD, "Flight To The Hinterlands" has been sent out for pressing and will be available by Thanksgiving (YES, OF 2011). The CD is available for preorder now, and will be at all of our Holiday gigs. We will be announcing the official CD release party date soon, so please stay tuned for that.
The 13-track recording has several new original compositions, as well as traditional tunes from around the world. In addition to music from the Celtic regions, there are Gypsy Middle Eastern and Scandinavia selections. Many of the tracks, such as "Gypsy Dancer", "The Basso" and " "Black Is The Colour", are ones that our audience has been requesting for several years.
In the Studio
This year has been a busy time for the studio. Aside from completing the new Lone Raven CD, we turned out projects from Mike Dugger, The Kelly Band, Evening Rose, Vinegar Hill, The Folkwood Players, Bob Ford and the Ragamuffins, and a reissue of Craig and Kara Markley's highly acclaimed "Once Upon A Winter Moon". In addition, we are putting the finishing touches on the new CD from Celtic Band, Morningstarre, and preparing to start several new projects. It looks like 2012 will be an active year full of some great new releases!

---
Summer/Fall 2010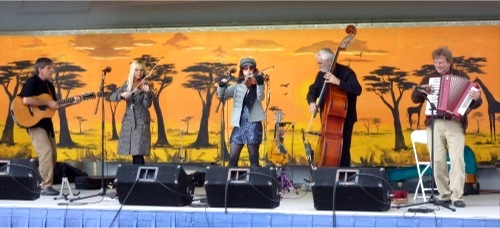 Lone Raven at Middfest
The Lone Raven Quintet had a great time performing at this year's Middfest World Music Festival. It was truly a wonderful festival, and a little bit of cold weather, wind and rain was not enough to dampen the spirits of the attendees! When we weren't performing, it was exciting to experience the other wonderful performers at the festival. Pictured left to right are Neil Jacobs, Elizabeth Blickenstaff, Kara Markley, Sid Omasta and Craig Markley.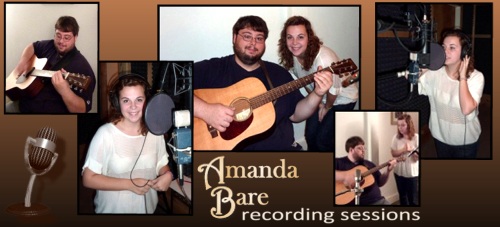 Amanda and Ben Bare Recording Sessions
Driving in from Richmond, Virginia, Amanda and Ben Bare just completed their initial tracking sessions. The duo laid down the vocal and rhythm tracks for three of Amanda's original pieces, which are some of the best that I have heard. Amanda, who has worked for Disney and others, is an outstanding vocalist/song writer, and brother Ben laid down some hot guitar licks. This is going to be one hot project, so keep your ears posted for more news. Amanda and Ben are the children of long-time Lone Raven friends, Gloria and Tim Bare (both excellent musicians themselves). Supporting tracks are being scheduled with the excellent Molly Pauken, Sid Omasta and others.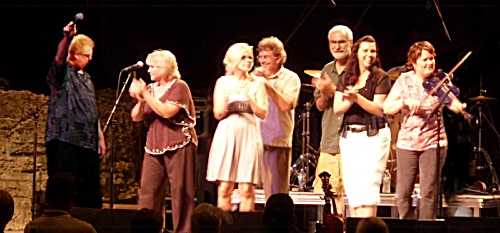 2010 Springfield Irish Festival with Eileen Ivers
After battling a heavy rainstorm, the clouds finally subsided and the equipment was dried off, providing for another successful Springfield Irish Festival. The Lone Raven/Ladies of Longford Septet opened the show for an enthusiastic audience who patiently waited out the storm. Later in the evening, led by the dynamic Tommy McDonnell, Lone Raven once again joined The Eileen Ivers Band for a finale that is starting to become a tradition.
Special thanks to our pal Karl Colon for the above photo.
---
Spring 2010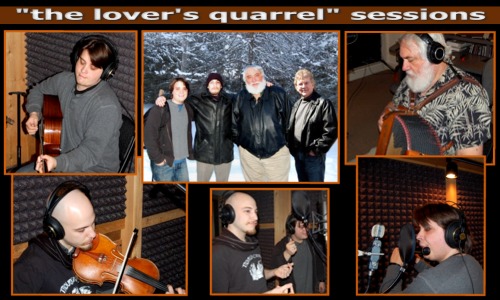 Mike Dugger in the studio for new solo CD project
Mike Dugger (Scartaglen, Glen Road) was just in the studio working on tracks for his new solo CD, "The Lover's Quarrel". Assisting him were ace musicians Julian Lambertson (fiddle) from Kansas City and Zac Leger (guitar, bouzouki, flute, whistles and bodhran) from Los Angeles. Also, helping out on guitar was Columbus guitarist, Rick Nelson. In spite of a near-record snowfall, everyone arrived safely and there were some stellar tracks laid down. This CD is going to be extra hot, and should be completed in late Spring.
---
Summer/Fall/Winter 2009
Kara Markley's adventures in London
New video posted on YouTube of Kara performing with accordion masters John Whelan and Karen Tweed at the "Return to Camden Town" festival
Also, Kara recently sat in with good friend and master accordionist, John Whelan, and guitarist, Adrian Burns, at London's famous 100 Club. She sang "My Lagan Love", which will be one of the cuts on the new Lone Raven CD. Although it was a surprise, they did manage to get a quick video of the performance and it is posted on YouTube. Kudos to Adrian, who learned the song off of Kara's iPod, immediately before going on stage.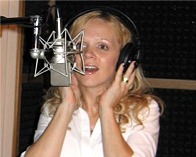 David Tolley's "Solomon"
David Tolley was just in the studio with the amazing vocalist, Tajči Cameron, to lay down vocal parts for his newest musical, Solomon. For those of you who may not be familiar with Tajči, you can find out more information at her website, idobelieve.com. In addition, Jo-Ellen Harris has been working with David as the vocal coach, and the musical will feature an all-star cast.
Studio News
Kay Proffitt just completed her new Irish Dance CD, "Wizard's Walk", which united her with ex-Heartstone fiddler, Trish Featherstone. The CD consists of nineteen tracks of wonderful Irish dance music and even has a cool arrangement of "The Kracken" from Disney's "Pirates of the Caribbean" blockbuster.
The multi-talented Shawna Ray is back at Lone Raven studio to start laying down tracks for her new CD project. Shawna has some really great new compositions, and will be working with Craig Markley and Molly Pauken to help with the arrangements and instrumentation. Visit Shawna's new website at rhythmray.com where you can find out more about her musical, educational and book projects.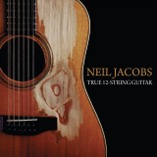 "12 String Guitar" nominated for 2009 Best Solo Guitar album
Neil Jacob's phenomenal new CD, "12 String Guitar" (recorded at Lone Raven Studios) was just nominated as best solo guitar album by the 2009 JPF music awards. Neil was also chosen to perform at the JPF awards program in Nashville on August 29.
Lone Raven CD
In between a busy touring schedule, Neil has also been in the studio laying down tracks for the upcoming Lone Raven CD. The new CD will feature a selection of vocal and instrumental tracks from around the world. Band members are Kara Markley (vocals, fiddle), Craig Markley (piano, guitar, whistles, accordions, reeds, percussion, vocals), Elizabeth Blickenstaff (fiddle, vocals), Neil Jacobs (12 string guitar, mandocello, prim, tambura) and Sid Omasta (mandolin, bass, fiddle). The CD will also feature guest performances from Septet members Hilda Doyle and The Ladies of Longford.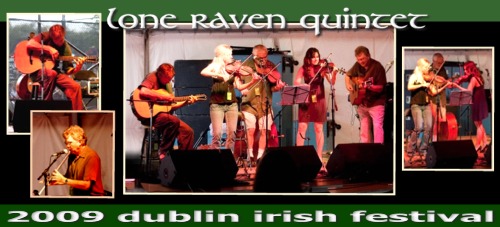 Lone Raven Quintet at 2009 Dublin Irish Festival
We had a great time at the Dublin Irish Festival this year. It was the first time that we had played the festival with our new quintet line-up: featuring Elizabeth Blickenstaff and Kara Markley on fiddles and vocals, Craig Markley on accordion, whistles, piano, guitar and percussion, Neil Jacobs on 12 string acoustic guitar, mandocello, tambura and prim, and Craig's long-time buddy from Stark Raven, Sid Omasta on bass, mandolin and fiddle. (Special thanks to Charles Cihon for the great photos).

New Grassahol CD
Be sure to pick up a copy of "Joy Shine", the excellent new CD from Grassahol. It features some wonderful original songs and spellbinding harmonies,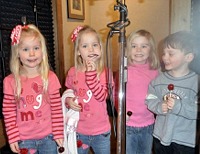 Lone Raven Studio News
Seems that even in this weak economy plenty of folks have still been in the studio recording. The studio was just updated with some new hi-end microphones and headphones. While in the near future, new plug-ins and mic preamps are in the cards.
Studio Projects
The Ladies of Longford just finished their new CD titled "Unreel", complete with vocals from some very special guests. Also near completion is the new CD from Bob Ford and the Ragamuffins, Kay Proffitt and Trish Featherstone, and the acoustic quartet, The Folkwood Players.
---
Winter 2008/Spring 2009
Bridges of Time CD Review
"......one of the more enjoyable records to come down the pike in some time!"
"......their musical heritage touches the shore of a thousand nations"
Please check out our Reviews Page for the latest review of the Lone Raven "Bridges of Time" CD. It was written by Michael Lohr of Renaissance Magazine.
6th Annual Shamrock Club Holiday Concert
The 6th Annual Holiday Concert at the Shamrock Club on Friday, December 12 was the best turnout yet. The lineup consisted of Lone Raven/Ladies of Longford Septet, Death by Banjo, Neil Jacobs and The Kells. Joining us will be friends Margit Dijkstra, Ric Smith, Karl Wohlwend, Molly Pauken, Phil and Josh Franck and others. The 2009 concert will feature Changeling, Grassahil, Neil Jacobs Band and Lone Raven/Ladies of Longford Orchestra. (Special thanks to Pat Foley Sr. for the great photos).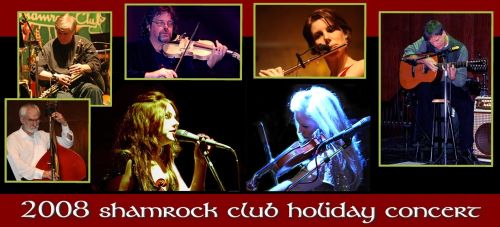 ---
Fall 2008
2008 Lone Raven/Ladies of Longford Septet News
We had a fun and exciting summer/fall concert season, and are looking forward to our upcoming winter concerts. A major highlight for us was the Springfield Irish Festival, where we shared the stage with one of my favorites, the Eileen Ivers Band. There were some other great shows around the state, including Troy, Lancaster, Portsmouth, Marion, Granville and many others.
While preparing to start our set at the Granville Irish Festival, we got pounded by a massive rain storm, which caused them to ultimately cancel the festival. The stage was uncovered, so we had to pull huge tarps over the stage to protect the equipment. While we were all huddled underneath the tarp, we met some new friends that were associated with the festival, and also got to know the members of the Indiana-based Celtic band, Siochain, while sharing some Guinness. So, in spite of it all, we still had an absolutely great time, and look forward to returning to Granville in 2009!
Other highlights included playing for our good friends in Troy, Ohio. Kim Clifton and the folks at Troy Hayner have been wonderful supporters. We were way south in Portsmouth a few times this year-once at the Arts Center and then again for the River Days Festival, where we opened for the Fabulous Thunderbirds.
While Kara, was vacationing in Florida, we were honored to have several of our good friends filling in. Instrumentalist Margit Dijkstra is a blazing hot flute player (and also sometimes joins the regular septet lineup), Kay Harris is an outstanding vocalist and a founding member of "Sirens", who Molly and Craig play with, and wildman fiddler, Ric Smith. There were also several gigs where Mark Richards, our percussionist, was unavailable, so we had one of our favorite musicians and dear friends, Molly Pauken, fill in on percussion and bass. It is always an absolute pleasure to play with Molly in any type of band configuration, and she spends a lot of time laying down tracks at Lone Raven Studio.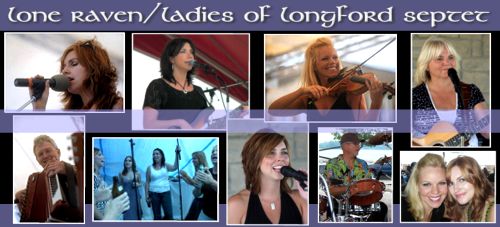 6th Annual Shamrock Club Holiday Concert
It is hard to believe that this year will be our 6th annual Holiday concert at the Shamrock Club in Columbus. The scheduled date is Friday, December 12 (which is also Kara's birthday). The tentative lineup this year will be Lone Raven/Ladies of Longford Septet, Death by Banjo, Neil Jacobs, The Kells, and many more surprises. Joining us will be friends Margit Dijkstra, Ric Smith, Karl Wohlwend and others. We will be sending out flyers soon.
WOSU-TV Video
We will be starting our new promotional video this winter. The video will include footage shot at this year's Columbus Arts Festival by the good folks at WOSU TV. Also, we are working with our friends at WOSU on the details for a new full concert video. The plan is for this video to be shot live at their new studio located at the COSI building, or possibly at an alternate location. For a sample video clip, please click here.
---
Summer 2008
2008 Springfield Irish Festival
The 2008 Springfield Irish Festival was a huge success. The Lone Raven Septet played Friday night along with The Kells and the wonderful Eileen Ivers Band.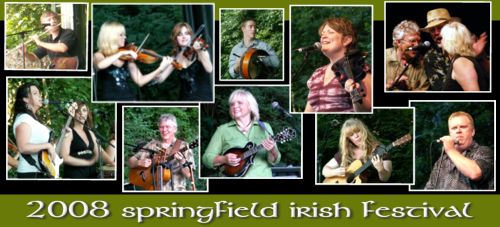 Led by the dynamic Tommy McDonnell, Lone Raven joined The Eileen Ivers Band for a finale that brought down the house.

Thanks to Cindy Funk of WYSO radio in Yellow Springs for the great photos.
---
Spring 2008
Andi Wolfe "An Obair"
Andi Wolfe just completed her new solo CD project, "An Obair". It consists of a wonderful collection of tunes from the Irish Harper, Turlough O'Carolan, as well as some great original and traditional selections.

Andi displayed her versatility on this project and played hammered dulcimer, bodhran and fiddle. She also provided vocals on several of the tracks and made her debut on the Nigerian UDU drum! Helping Andi out on the project were Aisling band members Craig Caldwell, Mary Bertke, Stuart Brand and Steve Wolfe. Ex Stark Raven multi instrumentalist, Sid Omasta, also joined in on some excellent acoustic bass parts.
New Holiday CD From Evening Rose
Celtic trio, Evening Rose just completed their new Holiday CD here at Lone Raven Studio. Titled "Christmas Rose", the CD will be ready for the 2008 Holiday Season. We had a lot of fun working on this CD, so be sure to pick up a copy soon.

"Christmas Rose" has some really great arrangements of traditional Holiday material, as well as some gorgeous original compositions. Evening Rose is Laura Elder, Kathy Smith and Cindy Wolfinger. Their CD release party is scheduled for Saturday, July 12 at 1:30 pm at the Hocking Township Building, 1175 Cincinnati Zanesville Rd (St Rt 22), Lancaster, OH, 43130
---
Winter 2007/2008
Busy concert season for the new Septet
World/Celtic band, Lone Raven, just completed a very busy fall and winter concert season. The band toured much of Ohio, playing such venues as the Troy Hayner House, OSUM's Morrill Hall, Dublin Irish Festival, Springfield Irish Festival, Upper Arlington concert series, and others. Then, they wrapped up the year with their 5th annual holiday concert at the Shamrock Club. So far, 2008 is booking fast and promises to be a big year for the Septet.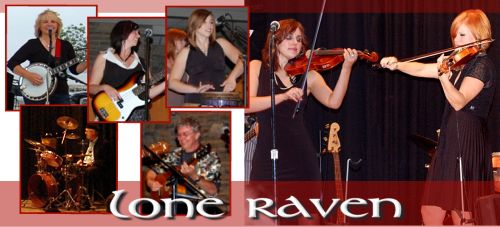 And speaking of the Shamrock Club, this year's concert was the best yet. In addition to the Lone Raven Septet, the lineup consisted of The Kells, Death By Banjo and Neil Jacobs. The night opened with a Jazz-flavored set of Christmas songs featuring Lone Raven, along with special guests Sid Omasta on bass and Karl Wohlwend on jazz guitar. There were special guest appearances by Charlene Adzima, Pat Mogan, Phil and Josh Franck, Ric Smith, Marian Funk, Pat Byrne and others. The attendance was standing room only, and next year's event is already in the planning stages. The Shamrock Club deserves a big applause for supporting this event, as well as all of the other great events they sponsor during the year!
---
Summer 2007
"We May Be Deaf, But We're Not Lazy"
OK....whatever you do, you have to check out the new CD from Columbus-based Irish Trad band, "The Kells". Their new CD project, titled "Don't Burn The Water", should be back from the pressing plant just in time for this year's Dublin Irish Festival. The CD contains 15 traditional and original tracks with some very pleasant surprises and a full 74 minutes of music. Band members, Brian McCoy, Kim Rattan, and Pat Foley were joined by guest artists Brock Napierkowski on fiddle, Ed Norris of The Hooligans on vocal and lead humor, Dave McCandlish on bass, and Craig Markley on Hammond B3.

Due to a fire in Brian's apartment, we did not get started on this project until mid June. As such, we spent some long studio sessions together and burned the old midnight oils on many of them. We had some great times and laughed a lot, ate our share of Atomic Fireballs and pasta salad, ran from the dog, played with the cat, got out more percussion instruments than anyone should and.....actually got the project done!! Oh yeah, for more explanation on the "We May Be Deaf, But We're Not Lazy" quote, you will have to see Brian.
Two Families, Two Friends-The Lone Raven Septet
The father/daughter team of Craig and Kara Markley, along with fellow "Lone Raven" member, Mark Richards, have joined forces with longtime friends and family, Hilda Doyle and Daughters Stephanie and Heather of "The Ladies of Longford". Topping off the septet is fiddler wiz, Liz Blickenstaff. The band has been performing for concerts around the state and is now accepting bookings for 2008.

The new Septet lineup features incredible lead vocals from Hilda, Stephanie, Heather and Kara, as well as 5-part harmonies. The band's instrumentals are fueled by the twin fiddles of Kara and Liz, and driven by the band's rhythm section-featuring Heather and Mark on percussion, and Stephanie on electric bass. Hilda and Craig round off the rhythm section by switching off on piano, guitar, banjo, mandolin, accordions and whistles.
Note: The above photo was from the 2007 Celina Concert Series. Photos were taken by Tanya Markley and Jeff Pontsler of The Grand Lake Independent.
---
Spring 2007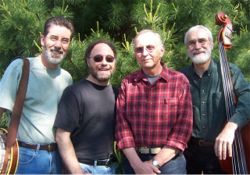 New CD from Death By Banjo
Longtime friend and ace musician, Sid Omasta, recently joined up with a great bunch of guys, "Death By Banjo". This is one of the most innovative group of bluegrass musicians that I have heard lately. Members are Tom Zinser, Paul Brown, Pete Remenyi and Sid Omasta. Check them out live and, by all means, pick up a copy of their new CD. You won't be sorry.
New Aisling CD
Central Ohio Celtic group, Aisling just completed their new CD, which will be back from the pressing plant just in time for this year's Dublin Irish Festival. Engineered by Craig Markley and produced by the band's multi-instrumentalist, Andi Wolfe, the CD also features members, Mary Bertke, Steve Wolfe, Stuart Brand and Craig Caldwell. There are some really nice traditional and original tracks on this CD, so be sure to pick up a copy. Also, Andi will be releasing another new CD in the near future, which will feature compositions from the famed harpist/composer, O'Carolan. Stuart is also hard at work preparing material for his first solo project.

In the Studio
In the Lone Raven studio, are Aisling, Neil Jacobs, Shawna Ray, The Kells, Lyn Ford and Hilda Doyle. Also, Craig, Kara and Lone Raven will be starting a new project soon also. Just completed were projects form Debbie Walton and Sharon Ackers, Death By Banjo and others. Please check back for updated info.
---

---